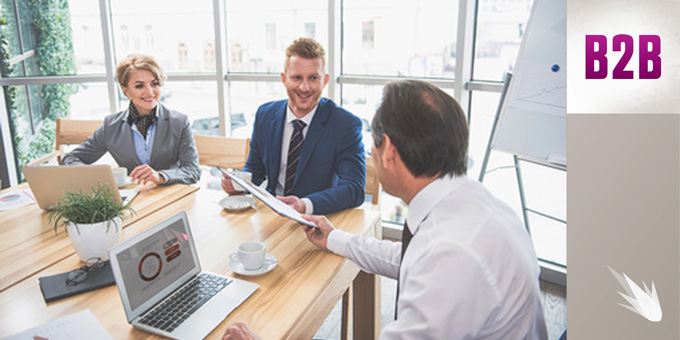 Business-to-business or B2B marketing is a simple concept, really. Consider business-to-consumer marketing first. B2C marketing is when a business positions its products or services for sale to consumers.
But when a business positions their goods for sale to other businesses, they engage in B2B marketing. Ultimately, most business transactions result from established vendor/client relationships.
Now, I'm pretty sure you didn't need me to define B2B marketing. But, it doesn't hurt to confirm that we're all reading the right blog post!
Let's jump straight to the questions, though. Why would you want to focus on B2B marketing? How can you improve B2B marketing for your organization?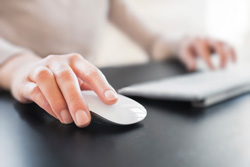 1. Help People Find Your Business
If you've established a trusted brand and built a loyal following of clients and business partners, certainly you're ahead of the game. But whether established or new – you'll need to attract new prospects and convert them into customers.
How do you do that? By generating leads. More precisely, by generating leads online.
When a person searches for products or solutions that you offer, you've got to have visibility within web search results. This isn't as easy as it seems.
"If you're looking for a quick fix silver bullet way to generate leads, you're in danger of having your lunch eaten by the entrepreneur who is just willing to do the real work." —Jason Leister, DIY Themes
This nicely tees-up the task of search engine optimization, which I'll cover shortly. First, you need to clarify your B2B marketing message.
Identify the main audience pain points followed up with the solutions that address them. The challenges must really resonate with the audience you're hoping to attract. Even the most compelling product will need clear benefits copy to help prospects see the value.
Now, what kind of person will these benefits resonate with most? You want to build a user persona so you can calibrate your message and B2B marketing tactics.
"Your customer is the focal point of your content marketing strategy. You need a substantial, deep, and comprehensive understanding of who she is." —Damian Farnsworth, Copyblogger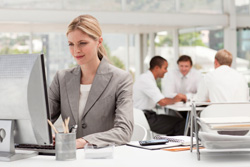 Maybe you've got a website you're looking to improve. We're all constantly improving our websites, aren't we? Or perhaps you don't yet have a site. Either way, put some thought into what content management system (CMS) would best serve your customers and your goals. A content management system enables you to organize and publish the content on your website without getting too bogged down in the styling or technology.
Next, apply appropriate branding and design. Branded components that feature your logo design — brochures, packaging, website pages, videos, and email templates — are essential to communicating ideas about your company and products.
So, either post a site if you don't have one or work to improve the site you have. Either way, make sure you implement Google analytics so you can track progress and make more improvements later.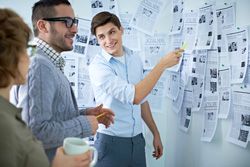 2. Clarify Your USP and Perform Competitive Intelligence
When crafting your B2B marketing message, hone in on your unique selling proposition. Emphasize what is unique or exclusive about your product when compared to the competition.
Review some of your competitors' sites with an eye toward gathering insights that are actionable. Take note of any unique claims or approaches they take. If you believe their products or website outperforms yours, try to identify how and why.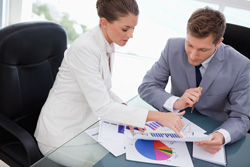 3. Craft Your Plan Based On Analytics Data
The better you understand Google Analytics, the better positioned you are to make good business decisions. As you explore and review this data, draw up a simple list of Strengths, Weaknesses, Opportunities, and Threats. That may sound like a very basic B2B marketing exercise. But it helps you think about your content planning strategically.
Set clear goals. There's no reason to work through the rest of this exercise if you're not going to state what "success" would look like. Establish a shrewd list of key performance indicators from the start. This enables you to better evaluate your efforts later.
"Consider the end-goal first. Defining what a lead means to you will help make your testing and analytics goals clearer." —kissmetrics
Consider what tactics have potential to be most effective, and refine your strategy accordingly.

4. Apply Solid SEO Techniques
Search Engine Optimization (SEO) is a deliberative process that helps dramatically increase chances your products, services, and solutions are easily found through common "organic" Web searches. Generally, the more established, relevant, and useful your content is, the higher your web pages can appear in search results.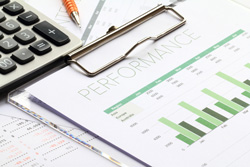 It's important to make sure your content will really cover the search terms that make sense for your business. Focus on the main ideas you believe will bring web traffic your way. Stake your claim on all the most important SEO keywords and topics from the beginning of your process.
Another way to think about it: It's Google and Bing's job to serve up relevant content whenever someone performs a Web search. It's your job to make sure your content stands the best chance of being found when someone searches for answers in your area of expertise.
Fortunately or not, there aren't many shortcuts to achieve higher rankings.
"The golden days of immediate search engine domination are over. If you are under the impression that old techniques can produce favorable results, then I've got some pagers to sell you." —Eric Schiffer, recode
5. Generate Relevant Content
In the age of search, the most compelling lure in B2B marketing is high-quality content. To create content your audience will value, put prospects at the center of your plan when creating it.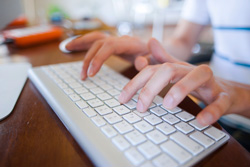 Targeted stories help you attract interest, build awareness, and encourage sharing. Well-researched, outstanding content can help boost sales, referrals, and brand loyalty. Strategic content will form a bridge to your products or solutions. Remember, sometimes just a handful of posts will generate most of your traffic.
Prioritizing topics will help you develop a simple website content strategy that supports your high-level business goals. You don't necessarily need to research an entire year of SEO keywords ahead-of-time. You can address that as you follow your website content strategy in the coming weeks and months.
Enhance your content with photos, illustrations, and information graphics. In fact, aim to create unique infographics when possible. "People still share them and still stop and read them whenever they can." —Entrepreneur
Cultivate an ongoing content development mindset among your team. Generate a healthy list of tasks. Prioritize them into categories A-C and distribute them across key dates for the coming year. Create a production schedule — and do your best to stick to it. A schedule maximizes momentum and minimizes unfocused engagements.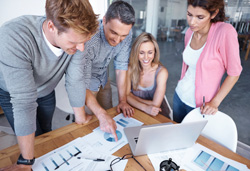 6. Oversee Conventional Marketing Efforts
Nowadays people tend to think that websites and mobile apps are the most critical platforms for a B2B marketing plan.
While that may be true, don't overlook traditional sales support materials that salespeople can use in face-to-face meetings with prospects.
Write and Design Brochures
Brochures are a great example. What should you consider when creating brochures for your products or services? What message must you get across to the audience? What action do you want them to take? From planning through to final delivery, let purpose be your mantra.
Launch Targeted Email Campaigns
Email campaigns are an essential asset to a B2B marketing manager. With an amazing 38-to-1 return on investment (ROI), email (inbound) marketing remains the #1 promotion tactic for businesses in all industries.
Assemble Presentations
People don't look forward to business presentations because they are rarely well done. Often, that's a direct result of not having enough time to prepare. Take your PowerPoint files and turn them into business presentations that help you engage and make an impact.
Host Webinars
A solid slide deck presentation opens the possibility of hosting a webinar. "Come up with a great idea that helps your customers and promote it using social media." —Entrepreneur
Produce Videos
As a vehicle for storytelling, videos are pretty hard to beat. Animations help you explain complex ideas efficiently and effectively. The explosive popularity of mobile devices has breathed new life into web videos. Why not take advantage of that?
Attend and Create Events
With the arsenal of finely crafted sale support materials outlined above, you should be able to make an impact at relevant industry events.
7. Spread Your Message via Social Media
Most companies recognize that engaging on social media networks is important. Some just aren't sure how to approach it. Social media marketing helps "drive" website traffic rather than just "attract" it.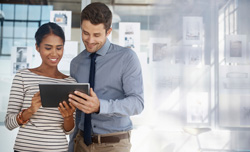 Share and Engage On Twitter
Some people can't see the value of Twitter. Others are afraid it will become a way for customers to lodge complaints in a public forum. But, adopting a Twitter handle facilitates increased engagement and visibility. It helps you drive traffic to your website. "Twitter is a dream for generating leads. Use it to reach out to influencers in your industry and get into conversations with them." —Entrepreneur
Connect and Network on Linkedin
Once your Linkedin business page is established, apply branding that helps synchronize your efforts with other channels. From there, you can join targeted groups, answer questions, gather relevant ideas, share your content, and then evaluate social engagement levels afterwards.
Friend Folks On Facebook
Generally speaking, B2B marketing companies don't get as much traction with Facebook posts. But organizations with more consumer products and services should take a closer look at what a Facebook business page might do for them.
Wow People On Instagram
Many consumer brands have found ingenious ways to generate interest and build Instagram followers. Instagram is a more challenging platform for B2B marketing, but not impossible.
Engage Prospects on YouTube and Vimeo
You may not need a video for every product in your lineup. But most businesses should have at least one overview video to stake out territory on YouTube and Vimeo.
Through many of these platforms, you can participate in forums and online communities. You can even manage a themed community if you believe it's worthwhile.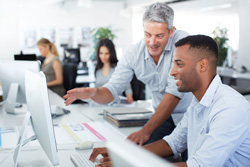 8. Test Paid Efforts As Well
Online advertising services enable you to strategically place your ads in front of prospects. Essentially, you craft ads in a campaign and pay a predetermined amount for each "click" that leads a visitor to your site. As an advertiser, you'll want to "place" your advertisements as intelligently as possible. That means getting the most relevant ads in front of the most qualified users at the right time.
To do this, you set up AdWords account, establish your Ad Groups and write your first batch of ads. Once that's set, you can optimize the schedule, select the best geographic markets, and choose a set of strategic Keywords. With Google Ads, you can set budget limits for each day or week — and collect a wealth of data on how effective your ads are.
Consider Facebook Ads
Though Facebook is better suited for B2C efforts, the platform may have a place in your B2B marketing mix, depending on what you offer.
Factor In Mobile Advertising
As part of your Google and Facebook efforts, you can designate particular ads for mobile devices. Again, exposure on mobile devices may not be as important within a B2B marketing campaign. But it's something to keep in mind and test.
After all, demand for mobile device screens continues to grow along with the number of hours consumers spend with smartphones and tablets each day. This growth has re-energized the marketing and technology experts charged with solving this mobile advertising puzzle.
Automate Ad Efforts with Programmatic
Programmatic ad buying "automates" the process of placing ads online. It's a big leap forward from the early days of banner advertising, so it could be worth a look.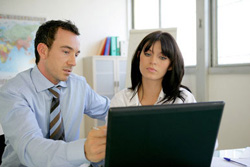 9. Improve and Repurpose Existing Content
Update, update, update. It's essential that you continue adding new content — and freshen up the content you've posted before. If you can't commit time to refreshing content yourself, engage a business writer like me who can focus on it for you.
"Make it readable. A website needn't have panache, fancy headlines, hero images, or parallax scrolling. What a website needs is readability — simple, plain, clear, big, and bold." —Inc. Magazine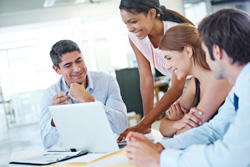 10. Build A List of Prospects and Customers
If you've addressed most of our list so far, you've invested a lot of effort into getting the right prospects to your site. Now, you have to keep them interested and convert them into a customer or more qualified lead. To do that, you've got to have a compelling offer — positioned at the right time and just the right way.
Test Landing Pages
"Post forms on every page. Easy access to the lead generation form is paramount to increasing viable leads." —KISSmetrics
Refine Your CTAs and Place Them Everywhere
What motivates us to click links and submit information through web forms? If it was worth investing time on website content writing, surely it's worth asking your visitor to take a specific action.
Create Lead Magnets for Your Offers
Use eBooks or White Papers to encourage folks to complete and submit your form. "These work great for B2B companies or businesses that work in a very technical space, as people love to read and gain expertise." —Entrepreneur
11. Engage, Analyze, and Repeat
Each morning – faster than you can say "cafe macchiato" – someone on your team should probably have begun liking, retweeting, and replying to posts in your Twitter feed. You'll also want to add conversation-promoting comments to your LinkedIn groups and Instagram feeds.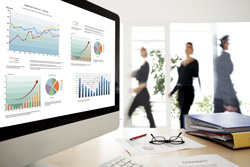 But it's important to prevent the "monkey mind" from taking over. If you don't structure your day, you run the risk of it quickly getting away from you. As you engage you must process the conversations going on in your feeds and make split-second decisions on whether you are going to dive in deeper.
Certainly, you don't want to rely solely on automation tools. But, they certainly help you maintain momentum and visibility while you attend to other work during each day. We use Buffer to schedule a few posts, daily — but always aim to engage with folks live as well.
A great thing about all these B2B marketing tactics is that each time you cycle through them, they can get better. You'll see which Tweets performed best, at what times, and so on. This enables you to optimize the process a bit more each time.
Let's face it. After all the strategy sessions, research, site redesigns, copy rewrites, and social media outreach — the cold, hard truth of your efforts will be expressed in numbers. Did you convert more leads? How many sales did you record?
Analytics reports enable you to monitor the effectiveness of your site's various pages, sections, and related marketing efforts. Insights gathered here will enable you to improve as you move forward.

Bonus: Segment and Diversify Efforts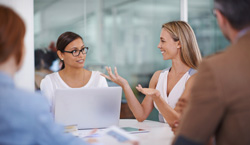 Evaluate your email lists based on previous campaigns. Consider segmenting into several targeted lists if it makes sense.
Consider vertical/industry marketing. Vertical marketing helps you zero-in on prospects more likely to be receptive to your messaging. For example, a technology firm may create products that are particularly useful in healthcare. Or, a software company might have solutions that help simplify tedious processes for accountants, bankers, or law offices. That's a smart use of your marketing budget!
"A vertical strategy can open new doors to where there may be less competition." —Olin Thompson
To be sure, B2B marketing is a much larger topic than can be explored on one blog page. But, these ideas cover a lot of the basics. Get started, stay committed, refine, and repeat!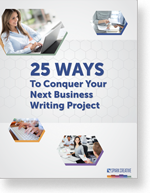 Get Your Free Business Writing eBook Now
Need to move forward on a difficult writing project? This practical guide can really help. Send a copy to yourself right now!
Dispatch a link directly to my inbox:
Sources may include:
10 Differences Between B2C and B2B Marketing, Jacqueline Zenn, Hubspot
5 Steps To B2B Social Media Marketing Success, Amber Mac, Fast Company
How To Create A Successful B2B Marketing Strategy, AJ Agrawal, Forbes
Creating a B2B Digital Marketing Plan for 2017 [infographic], Dave Chaffey, Smart Insights
Business-to-business
All You Can Eat Leads: 10 Ways to Generate More Leads for Less, Jason Leister, DIY Themes