If you tend to keep your desktop browsers up-to-date, you may have experienced frustration with the Adobe Flash plug-in update back in July. In fact you may have seen articles on Wired, The Verge, and re/code about the issue last week.
Problems manifested themselves most acutely in our office while attempting some casual stock research via Google Finance pages. The "ubercool" interactive charts wouldn't load, sending major Mac OSX browsers into "Spinning Beach Ball of Death" mode. (Actually, Mozilla FireFox had decided to disable support for the Flash plug-in altogether — suddenly and effective immediately.)
Update: After shutting down Flash in all three browsers, we've selectively used it with Chrome on a couple select sites over the last month. This seems to be the trend. Folks are learning to use Flash less often.
Sentiment over Adobe Flash has been split for years, but the tide seems to be turning. Apple's Steve Jobs had made his feelings well-known on the issue back in 2010.
So, the Apple iPhone and iPad haven't utilized Flash Player since their inceptions. That's had an impact for sure, but was perhaps not an overwhelming catalyst for change at the time.
Signs may be a bit easier to read now. If your sites or ad campaigns rely on Flash Player, you may want to consider a change to HTML5 (or similar solution). Honestly, most of our client work moved away from Flash a few years back. Most companies don't want to invest in technologies that a healthy portion of prospects can never see. But for those who've held on — it may truly be time to revisit the topic.
The Verge article makes clear that Mozilla could change its policy on blocking Flash if it's most egregious vulnerabilities were addressed. But also mentions that Facebook's CSO want to set a date for "killing Flash support once and for all."
The Wired piece offers a great summary on the issue. Perhaps better, it features instructions on how to disable Flash on your browsers. It's sad to lose some the impressive functionality that Flash is capable of delivering. But liabilities seem to outweigh benefits at this time.
If you've got thoughts about the current state of Flash solution, Tweet at us @sparkbyspark or contact us here. We'd be happy update this post with ideas and offer more guidance.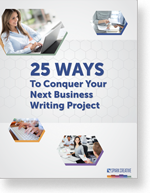 Get Your Free Business Writing eBook Now
Need to move forward on a difficult writing project? This practical guide can really help. Send a copy to yourself right now!
Dispatch a link directly to my inbox: