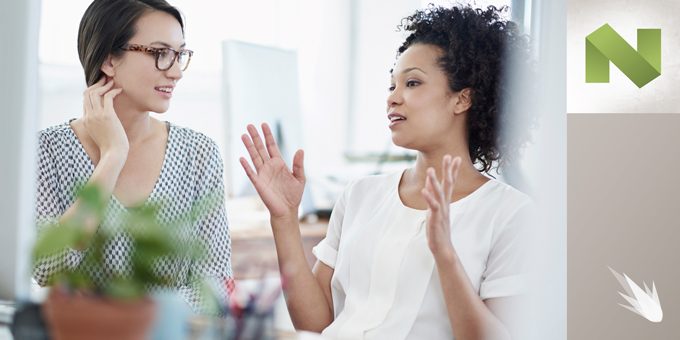 Most business leaders recognize that social media marketing is important. Some just aren't sure how to approach it. Often, the initiative doesn't get the attention it needs simply because there are urgent business matters to address each day.
That's why I recommend that you:
A. Assign an internal point person to handle social media marketing.
B. Expand your team to include outside help (like Spark Creative).
"Great social media sharing is a skill. And like all other skills, it requires a little strategy and a lot of practice to perfect." —Jeff Haden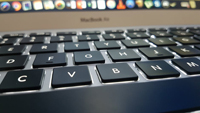 Apply Conventional Wisdom
Certainly, you should conduct search engine optimization (SEO) and test web advertising. This will help you attract the kind of qualified audience you'll want to connect with.
I like to think of those as "pull" efforts. But, it's critical to "push" your message as well. Social media marketing platforms like Twitter, Facebook, YouTube, LinkedIn, Instagram, and Pinterest help expand your reach and enable you to engage in timely conversations.
Like email, social media marketing helps you drive website traffic rather than just attract it. Sharing useful ideas via social media marketing channels helps your company stay visible, relevant, and authoritative.
"More than 60% of users pass along content that they think aligns with their goals and values." —Laura Montini
Here are some ideas on how each major platform can help you expand your reach:
If you want to learn more about social media marketing, I've got another post you should definitely take a look at called, "Maximize Your Marketing ROI with Social Media." For your convenience, here are some helpful ideas mentioned in it:
How To Get Started with Social Media Marketing
1. Designate a Social Media Leader
Assign a social media marketing point person who can establish accounts or pages. Give that person time to engage with fans and followers each week. Try focusing on a few social networks that make more sense for your business.

2. Preview Relevant Social Media Profiles
Whether on Facebook, Instagram, or Twitter – have a look around at what your competitors are doing with their social media marketing platforms.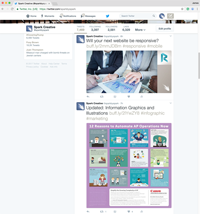 For Twitter in particular, take a look at our profile, for example:
@sparkbyspark
If you scroll down the list of our latest "Tweets," you may notice that we aim to share useful information. Sometimes we retweet interesting ideas from our followers and engage in conversations. You may also notice we aim to include specific #hashtags and branded images with most tweets.
That is all very much on purpose. Whichever social media marketing platform you're using, the idea is to share and engage.
"When you use a hashtag that's trending, you have a substantially better chance of getting engagement from people who aren't your followers." —Gary Vaynerchuk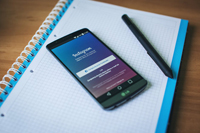 3. Maximize Your Exposure
Consider social media marketing tools that can streamline your posts on several networks according to a schedule. Research #hashtags that make sense for you when using Twitter — and draw up a long list of post ideas that draw from the various topics you've posted on your blog pages.
An outside team like ours can help you navigate these steps — and even lead your social media marketing if needed. But, it certainly helps to have that point person to collaborate with from inside your company.
"Truly taking advantage of social media requires time, effort, and an understanding of the platforms." —Rebecca Borison
4. Sync Your Messaging
Once the social media marketing networks are selected and secured, apply branding that helps synchronize your efforts across different channels.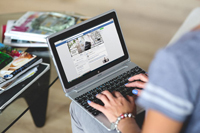 5. Create, Share, and Measure Response
Next, brainstorm relevant ideas, develop new content, fine-tune hashtags, optimize timing, and then evaluate social media marketing engagement levels after posts go out.
Social media marketing can seem like an ever-expanding initiative that requires ongoing attention. But, you only get what you put into it. So, establish a good content foundation, build out your profile, and engage on the social media marketing platforms most relevant to your audience.
"… social media is not free … it won't bring you immediate results … and it can't make up for a bad product or service. (But) if you can cope with all that, you're ready to learn how — and why (to leverage social media marketing)." —Dave Kerpen via Allison Fast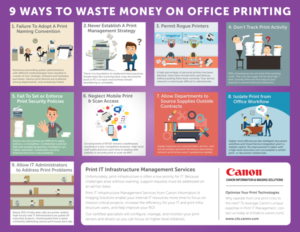 6. Create Your First Infographic
In addition to blog posts, consider investing in an information graphic. People love facts, figures, and statistics. If you can find a way to combine some important stats with visuals, you'll have handy, irresistible piece of content to share via your social media marketing accounts.
Ready to improve your social media marketing efforts? Let's get started!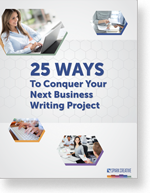 Grab This Business Writing eBook Now
Need some fuel for that writing project? You're in luck! I've created this practical guide with 25 specific tactics to help you move forward.
You're one easy step away. Submit this simple form and a link will be sent to your email inbox immediately:

Sources may include:
9 Best Practices for Promoting Your Business on Social Media, Rebecca Borison
7 Simple Social Media Moves That Work, Allison, Fass, Inc. Magazine
How to Master the 4 Big Social-Media Platforms, Gary Veynerchuk, Inc. Magazine
14 Powerful Social-Media Sharing Strategies You Aren't Using, Jeff Haden, Inc. Magazine
The Best Social Media Tips of 2014, Laura Montini, Inc. Magazine